ROLL OF HONOR

The following Florida Veteran is being honored in this project:


SGT. JAMES HENRY BRANDON - POW
Age at enlistment: 20
Born: 4/8/41 Marshall Co., MS
Parents: Father: John, Mother: Martha Brown Carson.
Died: 3/14/1903 Havana Cuba
Final Resting Place: Brandon Family Cemetery, Brandon, FL
Married: Johanna Cavacevich 7/17/66

Came to Florida with his parents in 1857.

He enlisted 8/10/61 as Private at Tampa and was appointed 5th Sgt 6/10/62.
He was captured 11/25/63 at Missionary Ridge: he "... kept his position until the enemy were in a few feet of the ditches ...." He was sent to Rock Island POW Camp, Chicago, IL and despite his absence, he was promoted 3rd Corporal in early 1864. He was forwarded for exchange 3/2/65. His name appears on the honor roll of Chickamauga.

James' father, John Brandon arrived at Ft. Brooke (now Tampa) in January 1857, migrating from Mississippi. Mr. Brandon and his wife, Martha, along with their six sons, first moved his family to what is now the Seffner area. Then in August 1858, John Brandon purchased 40 acres of land in the New Hope area (now Brandon) located south of Hopewell Road (now State Road 60) between Parsons and Avenue and Lithia Road.
John's and his four sons served for the Confederacy:

Franklin and Jarrett (and their father, John),

served in Munnerlyn's Battalion. The fourth, Robert Marion Brandon, served in Company D, 2nd

Mississippi Regiment and was killed at Gettysburg.
Marta Brandon died in 1867 and John moved his family to Bartow, leaving everything he owned to his son, James Henry Brandon.

In 1876, James built a Beautiful home for his wife, Joanna, which is a well known Brandon landmark, the Stowers Funeral Home still located on State Road 60 (now Brandon Boulevard).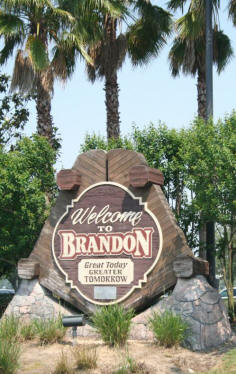 Meanwhile, John Brandon was married to Victoria in 1868, and in 1874 they moved back to New Hope. He homesteaded 160 acres and called his place "Brandon". Their home was located in what would become the corner of Kings Avenue and Victoria Street. Four years later the New Hope Church was built on land donated by Mr. Brandon. This church also served as the first school in the community in the 1870s. After John's death in 1886, Victoria took a leading role in the budding community, serving as the first postmistress and requesting a civil engineer of the railroad to survey and lay out a town site. The new town was officially given the name of Brandon. Descendants of the Brandons still live in the area.
After the war, James and his wife raised seven children. James was a prominent orange grove owner and was a member of Hillsborough United Confederate Veteran Camp 41 in 1891.